AYER'S LONGHAIRED GERMAN SHEPHERD'S

                                           for SALE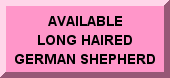 ©  Copyright Ayer's Long Coat German Shepherds

                         All Rights Reserved                 

 NO material may be copied from this website without            permission from the Webmaster Sandy Ayer 


This page was last updated on: January 31, 2019
Miss Mesa. Miss Pippi/Sammy girl. 


With MANY more Pics, Health Info, Important Health Links, my pups and dogs Grandparents & Great Grandparents, Past Puppies, etc.

You will need to use your own back button to get from my old site back to my new site till I have all the links working.

               Sandy Ayer CTD, Certified DogTrainer 

 Graduate of National K-9 School for Dog Trainers,                                    Columbus OH. 1997

              PHONE CALLS ONLY at this time        

                     304-384-8884

SPECIALIZING in LONG COAT GERMAN SHEPHERDS

Beautiful straight backs, Gentle giants, Oversized, Large boned, Old fashioned style,                                    German Shepherd puppies for sale, some plush coated.

My dogs are AKC Registered German Shepherds.  

My few SHILOH 'bloodlines' dogs come from the same AKC 

German Shepherds that were used in 'originating' the Shiloh Shepherds. My dogs are not Shiloh Shepherds or King Shepherds. 

(This information notice notice has been on my site since it was first 

put up with the wording never changed. I am very knowledgeable and 

thorough at explaining this to anyone who inquires about this.)



               Page up soon.

Prior past pups on original site. 

AVAILABLE: I have decided to let go my Male & Female PUPPIES.12 months old. Will email pics. Red sable. Also my 8 month old Female Puppy available.

** FOR SALE: ASAP. Due to family health issues looking for loving home for Young Adult Male & Female.  3 & 5 years old. Serious inquiries only please. No Shipping. Located in WV. Girl doggies should go w/boy dogs or no dogs and boys w/girls or no dogs. All are longcoats.   2/1/19